[RECORDING] Harnessing Diversity: The Unseen Wealth in Early-Stage Tech Investing
11/01/2023 04:00 PM - 01/01/2024 05:30 PM ET
Admission
Summary
Event Date: November 1, 2023 -Register to receive the link to the event recording.
Description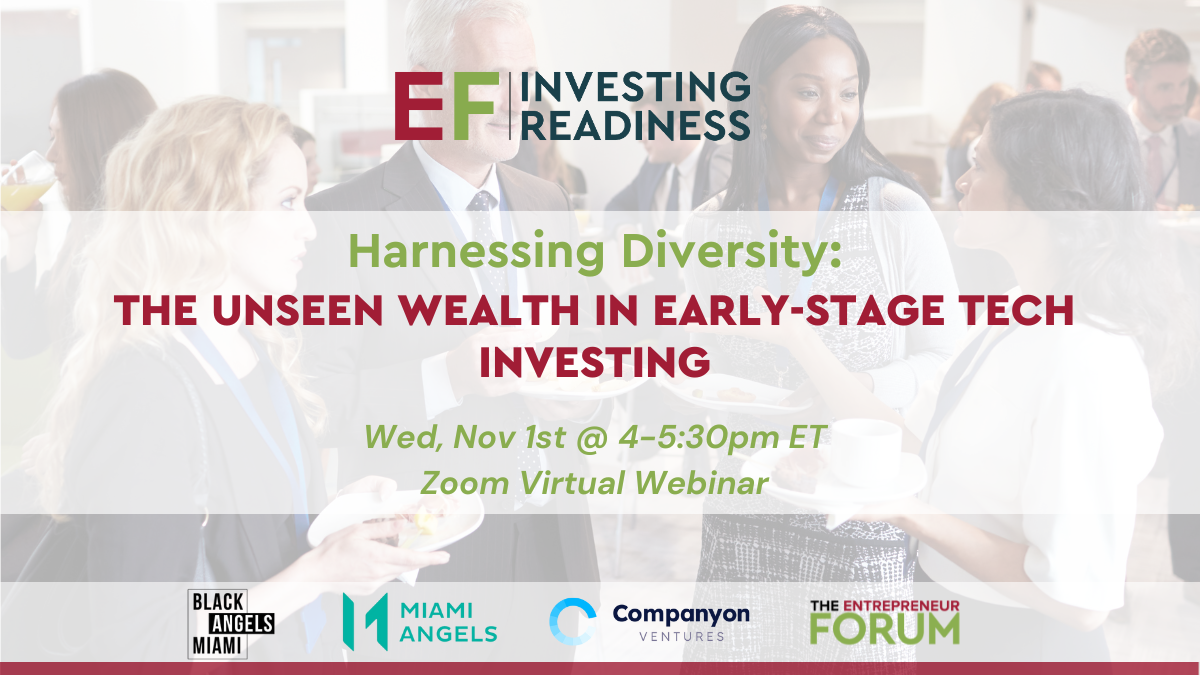 The landscape of early-stage tech investing is represented by a discernible deficit in diversity, where a significant portion of investors predominantly hail from homogeneous demographic profiles.
By widening the investor pool to include the new majority of the population represented by female or black or brown individuals, there's a clear pathway to not only fostering a more inclusive and representative investor community but also significantly enhancing the economic performance and potential of the tech sector.
"Harnessing Diversity" dives deep into the realm of early-stage tech investing, while revealing ways through which investor diversity fuels unseen wealth.
Speakers will discuss:
The data related specifically to the deficit in investor diversity and its impact on the economy, including its ripple effect on the diverse startup founders represented by female or black or brown individuals.

Investing in early-stage tech startups - What is it? Why should you care? What returns are seen in this sector?

Panel Discussion: Hear a lively discussion from those pioneering the Angel, VC and impact investing strategies. Learn about how they invest, what makes them different, and the impact they are making..
Join EF as our expert speakers explore the opportunities and risks that lie within early-stage investing, and inform on the journeys towards a more inclusive investor community and its financial impact on the investor, founders and community.
Who should attend:
Angel Investors

Venture Capitalists

First time investors

Policy Makers

Academia
Thank you sponsors: